Na gebruik van C-7 staat de seksuele energie eindelijk op het punt om de schedelholte in te stromen. Het laatste duwtje, de schedelholte in, geven we met behulp van de Schedelpomp. Deze bevindt zich bovenaan de nek, bij de atlas, het punt waar de schedel op de ruggengraat rust. De taoïsten noemen dit punt het Jade Kussen of Ju Chen. In het Engels wordt vaak gesproken over de cranial pump.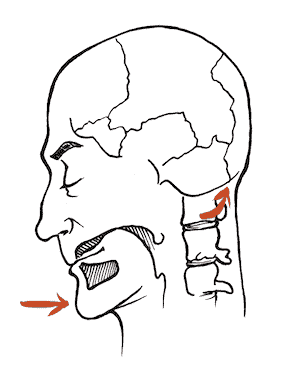 Je activeert de schedelpomp het meest eenvoudig met C-7 al in positie. Werk als mogelijk eerst weer met een partner:
Laat hem of haar een vuist of handpalm op het Jade Kussen zetten en zachtjes duwen.
Zet de tanden en kiezen stevig op elkaar en span de kaakspieren aan.
Druk de tong tegen het verhemelte en duw de kin naar achteren.
Trek de achterkruin omhoog, zodat je ook de nekwervels omhoog trekt, en draai je ogen inwendig naar de middenkruin. Let op, dat je je kin niet onbewust naar beneden trekt. Je hoofd moet zo blijven bewegen dat je gewoon rechtdoor kunt kijken.
Ontspan.
De Schedelpomp is geen mini-pomp, zoals T-11 en C-7, maar buitengewoon krachtig. Dit zul je wellicht merken wanneer je deze beweging doet.
Wanneer je wat meer vertrouwd raakt met de bewegingen kun je ze ook oefenen zonder partner. Dit kan sowieso, maar het is makkelijk als je in het begin iemand hebt die kan helpen.