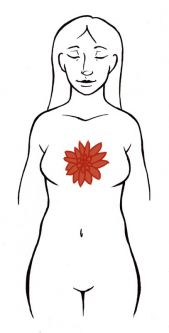 Een belangrijk onderdeel van de training van Welbevinden ofwel de ontwikkeling van True Heart is het leren stabiliseren van het Hartvuur ofwel de Chi. Voordat we daarmee van start gaan is het goed om stil te staan bij de vraag wat 'Chi' nu eigenlijk precies is.
Er is best iets voor te zeggen om het woord 'Chi' helemaal niet te vertalen. In zekere zin is het eenvoudiger om te trainen als je niet weet wat Chi betekent en wat er precies mee bedoeld wordt, want zodra Westerse termen gebruikt worden spelen er gemakkelijk connotaties mee.
Connotaties zijn grotendeels onbewuste gevoelsduidingen en interpretaties die verbonden zijn aan beelden en woorden. Als die connotaties onzuiver of onnodig negatief of positief zijn, dan kan dat de training stagneren.
De meeste mensen omschrijven zichzelf als verstandig, open voor innovatie en vernieuwing, niet bijgelovig en met rede begiftigd. De werkelijkheid is echter dat de meeste Westerse mensen behept zijn met een onbewuste neiging om afwijzend en laatdunkend te reageren op vernieuwende inzichten, oeroude kennis, diepe wijsheid, logische redenaties en wijze adviezen.
Het niet vertalen van Chi maakt deze problemen met connotaties minder. Echter, door Chi niet te vertalen zul je ook nooit echt begrijpen wat Chi is en waarom er in Azië zo de nadruk gelegd wordt op het in balans krijgen van de Chi.
Ik zou zeggen, hou al deze overwegingen in gedachten als je kennis maakt met de volgende vertalingen/duidingen van het begrip Chi.