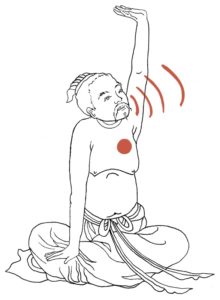 De Hartklank gaat als volgt:
'Hhhaaooowww'
Element: Vuur
Yang orgaan: Dunne darm
Yin orgaan: Hart
Zintuig: Tong
Kleur: Rood
Trilling: Snelle, volle bewegingen
Emotionele spanningsboog: Irritatie versus vrolijkheid
De Vuur-energie in het hart is verbonden met de volle zomer. Het is een krachtige, snelle energie die wanneer ze uit balans is tot irritatie, ongeduld en ergernis leidt.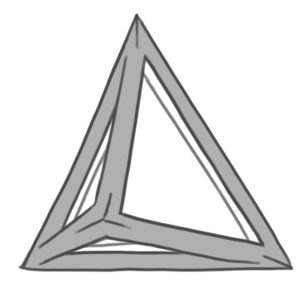 Oefening:
Activeer de I-kracht. Maak met de Innerlijke Glimlach contact met je hart.
Strek langzaam je linkerhand langs het hart omhoog, helemaal totdat je hand boven je hoofd is (doorstrekken van je arm in niet nodig). Draai de handpalm naar het plafond of de hemel, terwijl je de hand boven je hoofd houdt en je arm gestrekt. Ervaar de strekking in de linkerkant van je lichaam bij de hartstreek, de flank en de ribbenkast aan de linkerkant.
Maak de Hartklank.
Ontspan vervolgens je arm. Laat deze rustig naar beneden komen. Leg je hand of handen even op de hartstreek. Ontspan het gebied rond je hart.
Ontspan. Sluit de ogen. Visualiseer met Vuur, Rood of beide in een fantasievolle combinatie. Het is prettig om je voor te stellen dat je kijkt naar een mooie zonsondergang of een vrolijk zomers tafereel.
Doe dit 3 keer.
Vervolg met de Miltklank.