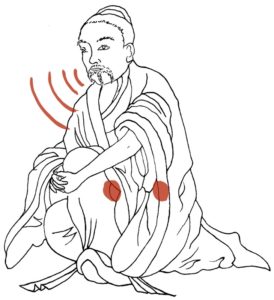 '
De Nierklank gaat als volgt:
Tsssooeeehhh' (vrouwen)
of
'Tsssoooohhhh' (mannen)
Element: Water
Yang orgaan: Blaas
Yin orgaan: Nieren
Zintuig: Oren
Kleur: Blauw
Trilling: Stil – in beweging komend
Emotionele spanningsboog: Angst versus zachtmoedigheid
Wanneer je de T-klank maakt vindt er een kringspier-reactie in de bekkenbodem plaats. Daarom beginnen we de Nierklank met 'T'. Dit is van belang voor de juiste uitvoering van de klank. Als de 'T' de bekkenbodem activeert, ontstaat daar een klein beetje spierspanning. Het is de bedoeling dat je die spanning tijdens het doen van de klank vasthoudt om de energie binnen te houden.
Mannen vinden over het algemeen de 'Tsssoooohhhh'-klank fijner. Vrouwen waarderen meestal meer de klank 'Tsssoeoeoehhh'. Voel je vrij ermee te experimenteren.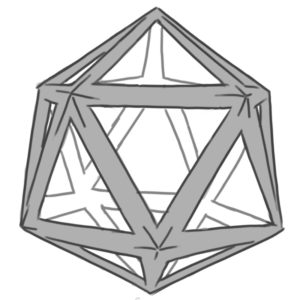 Oefening:
Activeer de I-kracht. Maak met de Innerlijke Glimlach contact met de nieren.
Grijp beide handen in elkaar, sla ze om de rechterknie en hou die stevig vast, zodat je er tijdens het maken van de klank aan kunt trekken. Adem rustig in en adem uit met de Nierklank. Trek je buikwand tijdens de klank naar achteren en voel dat de beweging druk creëert op de rechternier.
Laat de knie los, laat de handen los en ontspan het gebied rond en in de nieren.
Ervaar. Sluit de ogen. Als je wilt kun je visualiseren met Water of Blauw of beide in een fantasievolle combinatie. Het is prettig om je voor te stellen dat je luistert naar het zachte klateren van een bergbeekje of naar een rustige branding aan zee.
Herhaal dezelfde oefening en klank met je handen om de linkerknie en je aandacht gericht op de linkernier.
Maak de derde klank en beweging met de handen om beide knieën heen. Werk met beide nieren.
Vervolg met de Leverklank.